On November 22, 1972, the Longmont Branch of the Boulder County Humane Society officially became the Longmont Humane Society. The shelter occupied a small patch of land at the edge of town, and most of the building itself had previously been a turkey shed. 
Initially, the organization faced enormous challenges, from pet overpopulation to cruelty and neglect. In those days, LHS required adopted females to be spayed but only strongly recommended that males be neutered. For much of the 1970s, shelter managers came and went due to a lack of funds and a woefully inadequate facility. In 1977, 72% of the 3,282 animals in the shelter's care were euthanized.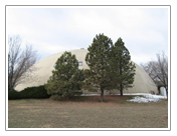 Between 1979 and 1982, high staff turnover and contagious diseases led to the euthanasia of all animals in the shelter multiple times. The American Humane Association (AHA) even condemned the facility. Considering such tragedies and knowing how desperately the community needed an animal shelter, the LHS board approved a $500,000 capital campaign to build a new facility. The Longmont City Council voted to pay for half the construction costs. Boulder County donated land at the county fairgrounds to house the new shelter. Staff helped raise another $250,000 through fundraising events.
In 1985, the new shelter opened, ushering in a new era of care for pets. From the heartbreaking episodes a few years earlier, the organization was now being recognized by AHA's Standards of Excellence program — one of the few shelters in the nation to receive that honor.
In the 1990s, LHS opened a spay-neuter clinic, hiring contract vets to perform surgeries on adopted animals.
In 2008, overcrowding led to a second capital campaign, which led to the construction of the Longmont Humane Society Allen Center, a 58,000 sq. ft. facility that can house over 200 dogs, cats, and small mammals. Today, with 80 staff and 400 volunteers, we care for more than 4,000 animals annually. We maintain a 98% live release rate, higher than the national average. We accomplish this through adoptions, foster care, the transfer of pets to other shelters, and the high return of pets to their owners. With veterinarians on staff, all animals are required to be spayed or neutered before going home. The clinic performs nearly 1,500 spay-neuter surgeries annually for shelter animals and another 1,500 for owned pets.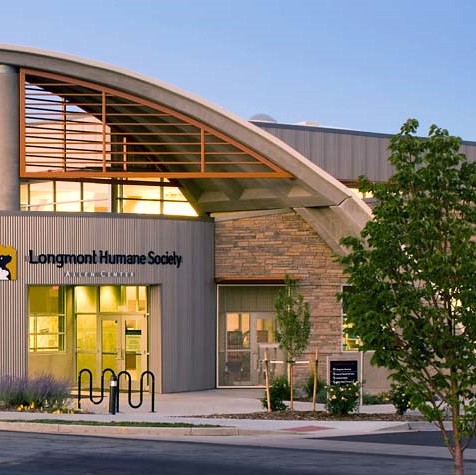 As part of our mission of caring, serving, and educating to improve the lives of companion animals, we also offer several public programs. Our Alternatives to Intake (ATI) program is designed to provide pet owners with resources to assist with the retention of pets in their existing homes. Our Foster Program gives more than 1,100 dogs, cats, and small mammals the time they need to get adopted. Our Public Pet Food Pantry provides free pet supplies to help financially challenged pet owners. When a family experiences tough times, like a domestic violence situation, hospitalization, or a natural disaster, we provide temporary shelter for their pets through the Safekeep Program. Our Kids and Critter Camps for ages 7 to 12 promote the development of safe animal-handling skills, encourage careers with animals, and teach children how to help animals, ensuring the next generation of pet owners will be better prepared to care for their pets. Our Training and Behavior Modification Department (TBMD) provides behavioral assistance for the lifetime of any dog adopted from LHS. TBMD also offers private training for dogs/owners who need one-on-one attention. LHS is often asked to take transfers from rescues who may not have the resources to address behavioral concerns. When LHS is operating at capacity, TBMD offers aid to dogs sheltered by other organizations, coaching them with the handling of behavior concerns. 
In 2022, we celebrated 50 years of service to Longmont, Colorado's people, and pets.