The Longmont Humane Society Training and Behavior Modification Department offers a variety of opportunities for animal welfare professionals to learn new skills and sharpen their current ones.
Shelters throughout the country can send staff and volunteers to LHS to learn handling techniques, how to set up dog play groups and even how to manage a volunteer program to assist with behavior and training tasks.
Our staff utilizes supervised playgroups to give shelter dogs a social outlet, exercise and enrichment.  This helps decrease their stress level in the shelter environment as well as helps to facilitate better adoption matches. In addition, interns are introduced to training techniques, tools, and methods used by LHS  and they receive an in-depth look at our TLC Volunteer Programs, which have a profound impact on the quality of life for the animals in our shelter.
LHS is leading the animal welfare field in expanding skill sets to better meet the needs of homeless pets in our community and beyond. For more information, please contact Erin Myers, Public & Shelter Training Supervisor, at erinm@longmonthumane.org.
In addition, four times per year, Longmont Humane Society partners with Dogs Playing for Life™ to host custom mentorships for shelter personnel and volunteers exclusively working with sheltered animals. We are here to help you advance your skills as handlers and trainers, with a better understanding of canine behavior within the context of sheltering, so that you can enhance the quality of life for your animals as well as save more lives!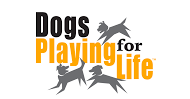 Comments from recent mentees:
Just this week, we were able to see dramatic changes in one of our "jumpy/mouthy" adoptable dogs. She was becoming very difficult for volunteers to take for a simple leash walk due to her mouthiness and overall high arousal behavior. We incorporated Fancy Footwork and a Door/Kennel routine as part of her everyday walking with volunteers, and she has made strides! Our volunteers almost cried tears of happiness after seeing her transformation, as they feared she would have to be pulled from adoptions after developing her mouthy behavior. The routines are extremely useful and easy to learn for our volunteers, and they feel an overwhelming sense of pride and happiness while seeing the dogs improve. Your program has already saved one life here at Lucas County Canine Care & Control, and I have no doubt that we will be able to apply the lessons to all of the dogs in our care. The best is yet to come. – Gabby V. Lucas County Canine Care & Control

I had a truly wonderful experience at LHS in general and with you and your TBMD team in particular. You provide such a unique and amazing learning experience for others to see how to put training and enrichment principles into action, and that shelters can and should do it. I'm eager to join in spreading the word! 🙂 Amie Burling, DVM; Shelter Medicine Resident; Maddie's Shelter Medicine Program

I want to thank you and your team again for taking the time to share your knowledge. At our shelter we are making some changes to our kennel routine. I'm happy to say that all staff are on board. Spending time at your shelter was very inspiring. – Sarah C. Second Chance Animal Shelter of Selma, CA

Thank you for being so generous and thank you for sharing resources. My hope is to slowly grow my shelter into something similar to what Longmont has accomplished. I am super grateful to have crossed paths with you. – Manny G. Palm Springs Animal Shelter, CA

I just wanted to say thank you for everything. I had one of the best experiences of my life at the training. – Zach D. Faithful Friends, DE